Parish Logo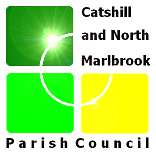 Increasingly you will see the Catshill & North Marlbrook Parish Council Logo displayed on notice boards, letterheads and at events either organised by, or sponsored by the Parish Council.
So what does the logo stand for?
Firstly, the Parish is split into three wards, and these wards are represented by the three coloured squares as follows:
| | |
| --- | --- |
| | North Marlbrook |
| | Catshill |
| | Barley Mow |
Secondly, the positioning of the squares represents a diagrammatic view of how the wards are geographically located.

Thirdly, the white cross formed by the positioning of the squares along with the text "Catshill & North Marlbrook" represent the following roads that divide the Parish:
| | |
| --- | --- |
| Left to Right | Birmingham Road (A38) |
| Top to Bottom | Braces Lane & Golden Cross Lane |
Finally, the white circle represents the fact that the three wards are all part of one Parish.
Look for the Logo, and be confident that your Parish Council is working equally for all three wards.